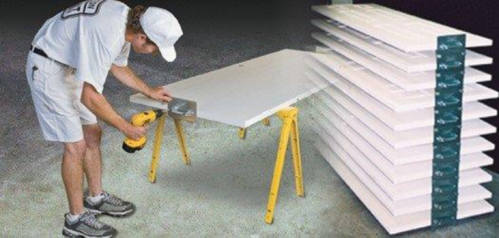 How To Use Spray'n'Stack Door Stackers
The Door Stacker system is comprised of two steel plates with a handle on each. Each plate is securely screwed into the centre of either end of a door prior to paint or stain application. One pair of door stackers suits an average height/weighted door.
Place the door over a saw-horse, attach the Door Stackers and you're ready to paint!
Spray one side of the door, then with a person at each end, flip the door over and spray the opposite side. Move the door to a suitable location for stacking and drying. Continue the process with each additional door.
The interlocking system of the steel plates allows the Door Stackers to balance on top of each other while stacked. The horizontal painting and drying process eliminates runs. A great space saving idea on the job site.
Additional usage tips
Once the paint on the doors has dried, use a sharp knife to score around the edges of the Door Stackers before removing them from the door. This will ensure that the build-up between the steel plate and the door has been separated so you don't risk tearing the paint from the edges of the door.
When painting or staining hollow core doors, it is recommended to only stack them 8-10 doors high. Warping may occur if the doors are left in a horizontal position for too long.
When painting or staining solid core doors, it is recommended to only stack them 3-4 doors high. If doors are too heavy, a quad stack can be used. This is when 2 Door Stackers are placed in each end of the doors.
Doors should be stacked from largest to smallest (see photo).
Always use 38mm Philips Wafer Head Screws. Other sizes and types of screws can damage the eyelets and weaken the handle over time.
Cleaning is a simple process. Place the Door Stackers into an empty bucket and soak in either water or paint thinners, depending which application type you have used. Rinse well and air dry.