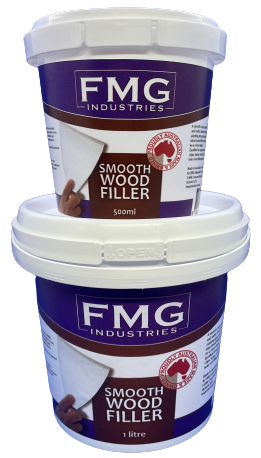 FMG SMOOTH WOOD FILLER
TIM001, TIM500 - SMOOTH WOOD FILLER
A smooth filler for interior joinery and walls.
Adheres readily to existing gloss and semi gloss painted surfaces.
Ideal broad filler for doors, cupboards and walls for a mirror finish.
Excellent for grain and edge filling, repairing chips, dents, cracks and scratches, nail and screw holes and filling uneven timber surfaces.
Perfect gloss retention.
Available in 500ml & 1Lt
Got a question? Take a look at our FAQs
Check out all the Tips, Tricks and Expert Advice from Express Paint Rollers.
Follow the link below to view Express Paint Rollers Videos.
FMG INDUSTRIES Pty Ltd
Follow the link below to find a local stockist of the Express Paint Rollers range.